TraInForEducation project
Transfer of Innovative Learning Techniques over Forestry Education

The general level of integration of information and communication technologies (ICT) in teaching has increased greatly over the past years. However, forestry education in Slovakia still uses traditional didactical approaches such as theoretical class teaching, set of lectures more or less mixed with practical field training and excursions. It relies mainly on traditional learning tools e.g. hardcopies of various publications etc. Such education system is no more able to provide expected results. Therefore, Slovak forestry education needs to adopt modern didactical approaches and innovative learning techniques able to hold learner's interest, and secure flexible education for effective knowledge transfer.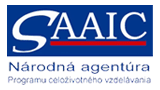 The main aim of this project is innovation of forestry education through transfer the findings of a blended learning approach (combining distance and presence learning) to the forestry education in Slovakia and Czech Republic.
Main outcomes of the project will be:
Transfer of a Blended Learning approach
Setting up an e-learning platform
ICT-based pedagogical materials for distance learning
Project duration: 22 Months
Project start: December 2008
Project number: 2008-1-SK1-LEO05-00222
Contract number: LLP-LdV-TOI-2008-SK-83100564
More information about the project can be found at Leonardo da Vinci - ADAM
This project has been funded with support from the European Commission. Responsibility for content of the products bears solely the author;  neither the Commission nor National Agency can be held responsible for any use which may be made of the information contained therein.